Resources
We are fortunate to have many local resources - you can browse our community resources anytime. Are you wondering "Where do I start?" or "What should I do?" Let me know! I can help connect you to the right resources at the right time.
Whether you are looking for food pantries, local housing programs, or need help finding other community resources, I am here to help!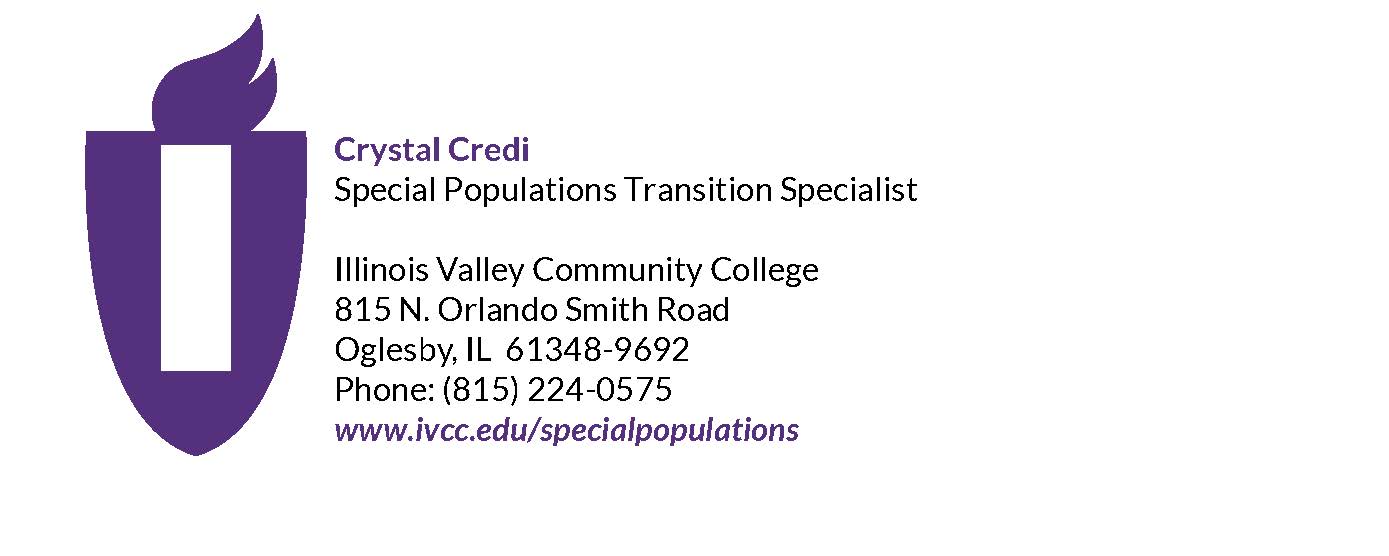 Schedule an appointment
IVCC Resources
Click on In This Section on the top left to navigate to the specific Special Populations pages.
General
College Resource Guide
This guide helps students know who to contact on campus depending on what resource or service they need.
Support for Single Parents (PDF)
Services and resources to help single parents and displaced homemakers
Transformative Growth Counseling
Mental Health Counseling and Resources
Set up your free YOU @ IVCC account!
Explore resources, such as articles and videos, that promote overall well-being for the mind, body, and academics. Watch the YOU @ IVCC Orientation.
Lactation:
The Lactation Room is located in the E-building. This room is locked at all times.
To use the room, students must contact Campus Security at 815-224-0314.
Student Services
Departments & information
Safe Journeys
Support Services for Survivors of Domestic and Sexual Violence - office on IVCC's campus Tuesdays & Thursdays and Mondays, Wednesdays, & Fridays by appointment
Child Care


(Located on the Main Campus)
Count on the Illinois Valley YMCA to make childcare care easy and convenient by providing our program right in the college. Peace of mind comes from knowing your child is in a safe and nurturing environment.
YMCA Little Eagles provides childcare between 7:45AM – 2PM Monday through Friday during the Fall and Spring semesters. A waiver form will need to be completed in person in CTC-206 on IVCC's Main Campus.
All participants need to be potty trained for the health and safety of the children and staff. Parent/Guardian must remain on campus while children are under YMCA care.
If you have any questions, please contact Maya Quick at 815.223.7904 Ext. 035 or mayaq@ivymca.org.
Listen to the podcast about this resource! The link is under Podcasts below.
Academics
Student Help Desk
Help in setting up your Student Technology or accessing those accounts
Learning Resources Skills Development
Brush up on Math, Reading, & Writing Skills
Tutoring & Writing Center
For help on any course or at any stage of the writing process
Jacobs Library
For borrowing materials, asking a research question, technology loans, and more!
Center for Accessibility and Neurodiversity
For learning differences, time management, and how to be a good student
Student Success Coaching
For organization/time management/tips
Financial Assistance & Community Resources
General
Illinois Valley Community Resource Guide (PDF)
A listing of Illinois Valley Community Resources including counseling, health, substance abuse, disability services, basic needs, child care, food pantries, employment, & transportation.
Get Connected. Get Help. (211)
211 is the most comprehensive source of information about local resources and services. United Way 2-1-1 helps residents find fast, free, and confidential help for locating and connecting with essential community services by simply dialing 2-1-1. You can also text them at TXT211.
Illinois Department on Aging (IDOA)
Alternatives for you
They offer support for anyone caring for a senior, an individual with a diagnosis of dementia, and for grandparents raising grandchildren. They currently offer supportive counseling, resource information and linkage, and access to available grant funding for respite and supplemental needs.
ISAC (PDF)
Student Resources Beyond Financial Aid: Food, Housing, & Medical Care
Valley Immigrant Advocates
Providing a pathway for immigrants to full participation in our communities and our country.
Facilitando un camino para los inmigrantes hacia la plena participación en nuestras comunidades y en nuestro país.
Illinois Assistance Programs and Services
Resources for those experiencing food insecurity, such as local food pantries, assistance in applying for SNAP, etc.
Child Care
Child Care Assistance Program through IDHS
Child Care Locator & Other Resources
Financial
BEST (Business Employment Skills Team)
Tuition assistance, career development, & job search tools for those eligible
Located on IVCC's campus: C-328, (815) 224-0370
Apply for Financial Aid (FAFSA®)
Complete the Free Application for Federal Student Aid (FAFSA®) form to apply for financial aid.
Why you should complete the FAFSA®
Apply to Project Success
Those accepted into the program will have an assigned academic advisor, priority registration, scholarship assistance, computer lab, workshops, and more! First-generation, low-income, or students with a documented learning or physical disability may be eligible for services from Project Success.
Affordable Connectivity Program - Internet Access
This program helps low-income households pay for internet service and connected devices like laptops or tablets.
GetCoveredIllinois - Medical Insurance Assistance
You may qualify for Premium Tax Credits and Cost Sharing Reductions to help lower your monthly health insurance premiums for ACA Marketplace plans.
findhelp.org
Financial assistance, food pantries, medical care, and other free or reduced-cost help
EDUMED
College Scholarships & Resources for Military Veterans
Helpful Videos
How to search for classes on WebAdvisor
How to register for classes through WebAdvisor
The difference between a drop and withdrawal and how to
YOU @ IVCC Orientation: What resources are available?
Academic videos
Learning Strategies Every Student Should Know
Other resources
The Trevor Project
The Trevor Project provides information & support to LGBTQ young people 24/7, all year round: (866) 488-7386.
Queer-Oriented Rural Resource Network
The Queer-Oriented Rural Resource Network (QORRN) is dedicated to helping LGBTQ+ individuals in rural communities access the resources and services they need.
Addicted.org Rehabs.org FreeRehabCenters.org Detox.com
In-state resources for overcoming addiction and preventing substance use
Addictions.com AddictionHelp.com Narcotics.com
Boca Recovery Center:
What is Addiction? Adderall Abuse Among College Students
Live Another Day
Features culturally competent resources for people of color and an editorially curated list of the top-rated rehab centers in Illinois.
The Summit Wellness Group
Written and curated by Women of Color, this guide features over 60 resources for People of Color
Ocean Hills Recovery
An excellent resource on the importance and function of interventionists
Discovery Place
An in-depth guide on helping an alcoholic friend or family member
Types of trauma Holistic Mental Health
Digital Resources
General tips on using computers
Optimize your resume
Enter your resume to extract skills and skill opportunities by the job title that you are applying for
Podcasts
Student Events Calendar