Volunteer Tutoring Program
The Volunteer Tutoring Program is located at Illinois Valley Community College in Oglesby, IL. The program trains and places volunteer tutors in adult education classes in the IVCC district.
Volunteer Tutoring Program contact: Sara Escatel - 815-224-0355
Interested in becoming a volunteer? Submit a Volunteer Tutor Application.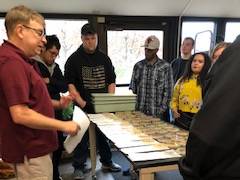 Volunteer Training Information
Volunteers must complete 6 hours of training before being placed with learners in the classroom; however, teaching experience is not necessary. Visiting an Adult Education classroom is an additional training component. In-person training sessions are conducted in the winter, summer and fall. Completion of training does not guarantee placement.
Interested in completing tutor training online? Find more information for online training on the IL Cyberdrive Literacy website.
Qualifications
Desire to work with adult learners and be willing to tutor two-three hours
High school diploma or its equivalent
Ability to teach, but no college degree or teaching experience needed
Good interpersonal skills
Effective communication skills
Patience, understanding and respect for adult learners
Age 18 or older
IVCC district resident
Responsibilities
Complete 6 hours of online tutor training
Provide instruction to adult learners
Provide a comfortable setting for learning
Respect adult learners' rights to confidentiality
Submit a monthly tutor report