Truck Driver Training
Truck Driver Training Guidesheet
Truck Driver Training Certificate
What is Truck Driver Training?
The Truck Driver Training Program at IVCC combines classroom presentation and hands-on experience that leads to a Class A commercial driver's license. Students learn the basic skills to become a safe, professional truck driver that will enable the student to secure an entry-level position in the trucking industry.
Program Options
Illinois Valley Community College's Truck Driver Training Program, TDT 1201 (classroom instruction) and 1202 (behind-the-wheel driving) is completed in 160 hours. After the completion of the required hours and road test at the DMV, you will receive a Certificate in Truck Driver Training and Commerical Driver's License.
Four additional Certificates are also available:
TDT 1204. Tractor Trailer Backing
TDT 2210. Equipment Refresher Training
TDT 2275. Truck Driver Permit Testing
Features of the Program
Six students per class: 1 instructor to 3 students for outside equipment training.
Day classes are 4 weeks long, Monday through Friday from 8:00AM - 4:30PM. Night Classes are 6 weeks long, Monday through Friday from 5:00 p.m.—10:00 p.m. Students learn turning, shifting, yard skills, pre-trip inspection along with, elogs, safety and industry regulations.
Affordability
The IVCC Truck Driver Program accepts Veteran and National Guard Grants, Workforce Investment Act Grants and various tuition reimbursement programs. The Advanced Proficiency Certificate makes use of 6 qualified college credits and the Truck Driver Training Program combined in order to make use of Federal Financial Aid (FAFSA). A payment plan through the NELNET program is also an option. More information on financial aid is available at www.ivcc.edu/financialaid.
Call Truck Driver Training Administrative Assistant, Audrey Moreno at 815-224-0265 for information on program and enrollment.
Careers in Truck Driving
Find out more about Truck Driving Careers at www.mynextmove.org. Search Truck Driver.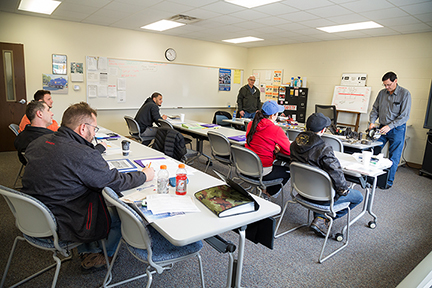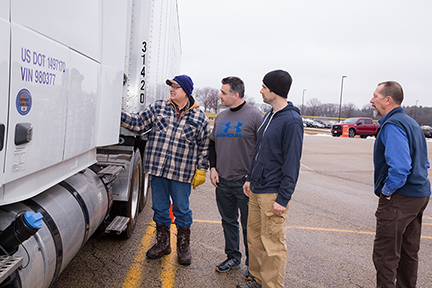 What truck drivers do
Load and unload cargo or passengers
Verify load against shipping papers
Keep records of receipts
Deliver cargo to grain elevators, barges, trains, businesses, job sites, loading docks
Remove snow from streets
Perform daily pre-trip inspection
Employers
Truck Drivers are in high demand. Students can choose the type of work wanted, local, regional and over-the-road. Local government jobs in state, city and townships have positions open. Unions hire on CDL licenses holders for high demand fields of electrical lineman, constuction and iron workers. Farmers and Ag Business have seasonal positions available.
Tom Nestler

Program Coordinator
Audrey Moreno
Truck Driver Training Administrative Assistant