Agronomy
Associate of Applied Science Degree Agronomy
Agronomy Guidesheet
Agronomy Flier
What is Agronomy?
Students earning an Associate of Applied Science (AAS) degree in Agronomy study the latest in agricultural technology, crop growth and development, crop pest management, and soil sciences. Agronomy students apply science and technology to crop production techniques to produce or manage food, feed, fiber, and fuel. Students with an AAS degree in Agronomy from IVCC can find employment or self-employment in the agricultural input sector, production, or management professions.
Program Options
After successful completion of the AAS degree in Agronomy students can enter the workforce full-time or transfer with one of our articulation agreements to a university to earn a Bachelor's degree in agriculture.
Begin Your Ag Career Today
Agronomist, Farm Manager, Seed Salesman, Farmer, Precision Ag Specialist, Field Operations Manager, Fertilizer Salesman, Crop Adjuster, Organic Crop Producer, Soil Scientist, Crop Scout, Crop Consultant, Commercial Applicator
One-On-One Attention
Mentoring, Advising, Small class sizes and Dedicated instructors
Hands-On Experience
Agriculture Wet Lab, Greenhouse, Internship, Agriculture Mechanics Shop, College Farm and Field Trips
Scholarships
Tens of thousands of dollars are available through the IVCC Foundation
www.ivcc.edu/foundation and Financial Aid is available for those who qualify www.ivcc.edu/financialaid.
Salaries
The average salary for a career in the Agronomy field is in the range of $25,000 - $65,000 with an industry average of $44,000.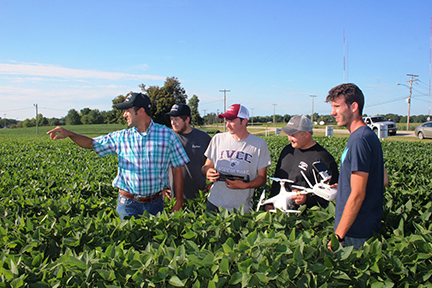 Careers in Agronomy
Real Estate Appraiser
Laboratory Assistant
Educator
Farm Services Manager
Technical Writer
Safety Coordinator
Grain Facilities
Production Supervisor
Water Quality Manager
Human Resources
Equipment Salesman
and many more...
Willard Mott
Agriculture Instructor and Program Co-Coordinator
Dr. Jennifer Timmers
Agriculture Instructor and Program Co-Coordinator